Previously, on Red State…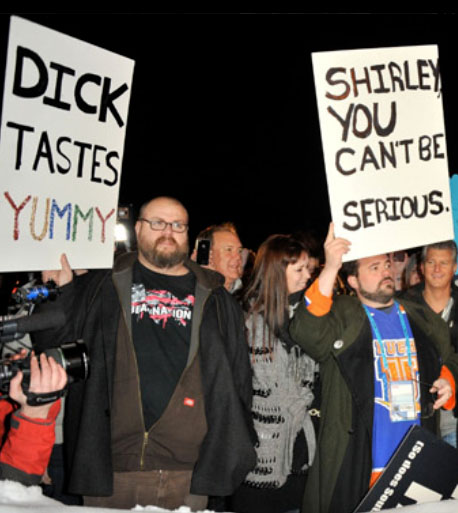 THIS WEEK, YOUR HOME RUNS RED!
Red State hits V.O.D. THIS THURSDAY, SEPTEMBER 1st! Watch that shit right in your own home, on-demand!
Every major provider will be offering Red State. Watch it on your TV or computer at the following VOD outlets…
RED STATE VOD ONLINE:
Sony PlayStation
Amazon.com
iTunes
Blockbuster.com
YouTube
Microsoft: XBOX: ZUNE
VUDU (the Walmart platform)
Sonic/Cinema Now
RED STATE VOD SATELLITE/TV:
AT&T
INDEMAND: Bresnan, CableVision, Comcast, COX, Time Warner – Cable VOD
DIRECTV
DISCH/ECHOSTAR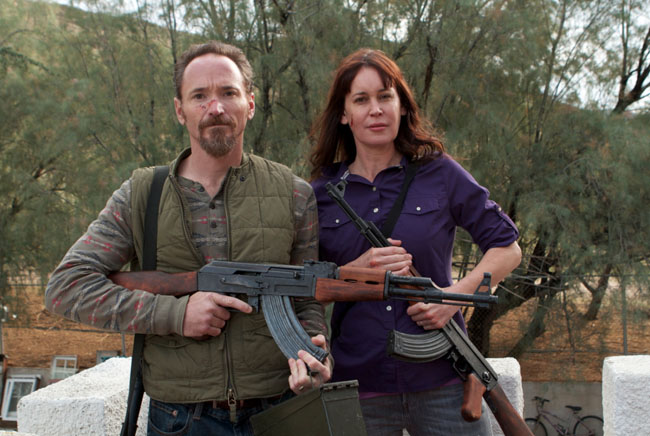 (Mordechai and Esther say "Take a shot on Red State!")
And, it's like $10 at home! Gather together a bunch of friends and have a Red State watchin' party this weekend – or any time over the next six weeks! Because this movie is lots of fun with a full house!
Speaking of full houses, let's talk about the fun-as-fuck (or fucking) Red State New Beverly run.
In order to qualify the actors in Red State for Academy consideration, we ran the flick for a week at Quentin Tarantino's New Beverly Cinema in Los Angeles (big thanks to Julia!), where we did two screenings a night, which I followed with 30 minute Q&A's. Tickets were $20 for the Friday to Wednesday screenings and were followed by post-show Q&A's with Fatty McNoFly, scourge of the skies.
Since few movie sites ever wanna include us in their box office wrap-up pieces (nor mention that we had the highest per screen average for the last two weeks), here's the financials for how Red State performed that week…
Friday August 19th
6:30PM 215 – tickets sold $4300
9:00PM 215 – tickets sold $4300
Total for Friday, 8/19: $8600
Saturday August 20th
6:30PM 215 – $4300
9:00PM 215 – $4300
Total for Saturday, 8/19: $8600
Sunday August 21st
6:30PM 215 – $4300
9:00PM 215 – $4300
Total for Sunday, 8/19: $8600
Monday August 22nd
6:30PM 154 – $3,080
9:00PM 215 – $4,300
Total for Monday, 8/19: $7,380
Tuesday August 23rd
6:30PM 168 – $3,360
9:00PM 215 – $4,300
Total for Tuesday, 8/19: $7,660
Wednesday August 24th
6:30PM 215 – $4300
9:00PM 228 – $4560.00 (oversold)
Total for Wednesday, 8/19: $8,860
Friday to Wednesday total: $49,700
On Thursday, I didn't Q&A after the screenings at all, as per AMPAS rules (regarding leaving filmmaker-free screenings open for Academy members so they can watch the flick without influence). Thursday's ticket price was only $7 for the movie only ($7 is the normal New Beverly admission price, although usually that's for a non-first-run double-feature). Even that did solid numbers…
Thursday August 25th
6:30PM 175 x $7 = $1225.00
9:00PM 191 x $7 = $1337.00
Total for Thursday, 8/19: $2,562
Friday to Wednesday total: $49,700
Thursday total: $ 2,562
New Beverly Total: $52,262
Of the 2,675 seats available from Friday to Wednesday, we sold 2,580. From Friday to Wednesday, over the course of twelve screenings, merely 95 seats ever sat empty. Had our start time been 7:30 each night, we likely would've sold those seats as well (it's a bitch getting anybody out in L.A., let alone at 6:30 at night; folks are still getting home from work). We now LOVE the New Beverly, and we're talking to Julia about setting up Red State Sunday Sermon screenings there every weekend.
The New Bev run came on the heels of a very successful tour across Canada with our Canuck distrib, Phase Four Films. Red State sold out in Toronto, Edmonton and Calgary. In Montreal, there were less than a hundred empty seats (Red State had just sold out at the Fantasia Film Fest there in town a month prior). And while we didn't sell out in Vancouver either (missed it by a hundred or so), we sold more tickets in the Van than in any other Canadian city on the tour.
After the Red State-Red Provinces tour, Ralph Garman and I did Hollywood Babble-On in Texas, at the San Antonio Alamo Drafthouse and the Houston Alamo Drafthouse. When it was clear Babble was gonna sell out, we asked both movie houses if we could also add a Red State screening for later that night, for the same price we'd done the New Beverly run: $20.
San Antonio Alamo Drafthouse: SOLD OUT – 200 @ $20 = $4000
Houston Alamo Drafthouse: SOLD OUT – 300 @ $20 = $6000
Texas Weekend Totals from 2 Screenings: $10,000
From now on, this will be the model for Red State on the road – which will continue long after the flick's even on home video, so I can eventually accompany Red State to every state myself. We'll set up a live SModCo show, and if it's selling well, we'll add a Red State screening/Q&A to the venue's menu. If you've got a movie house and you wanna book a SModCo show or Red State screening, hit us up on Twitter at @RedStateNearYou. If you're looking to book a SModCo show or Red State into a bigger theater or college venue, contact tour guru Jeff Hyman.
We toured Canada last week, but in two weeks, it's off to the UK to support the Brit-distrib E One UK for a Red State for the Red Coats Tour. Here are the tix results I have on that thus far…
London – 352 capacity (sold out)
Glasgow – 425 capacity (sold out)
Manchester – 480 capacity (sold out)
Birmingham – 420 capacity – (tickets still on sale)
Normally, I get to brag "And we did all that business without spending a fucking dime!" Not this time, however…
Per the AMPAS rules that govern the qualification for the Oscars, paid ads needed to run in conjunction with a seven day, official theatrical engagement. This was a bitter pill to swallow, as we've sold lots of Red State tickets all year long without running a single paid ad. But a rule's a rule, so after the AMPAS folks signed off on the New Beverly for the home of our Los Angeles run, we spent $9,316 on newspaper ads.
It still makes me queasy – solely because it's money not well-spent. We'd sold out all of our weekend screenings before the ad ever ran in either of the three papers we bought space in: the LA Weekly (six inch ad), the LA Times (same), and the west coast edition of the NY Times (1/2 page ad).
Since nobody on Twitter, Facebook, or anyone in the real world for that matter ever mentioned seeing the ads (which was kinda my point on the Sundance stage), I figured I'd run 'em here for posterity…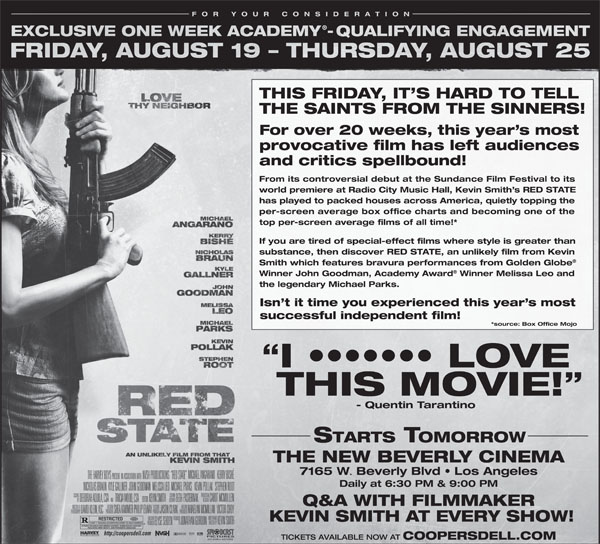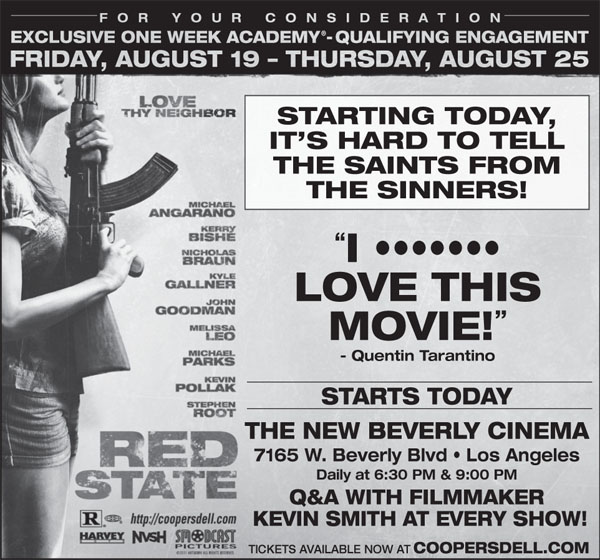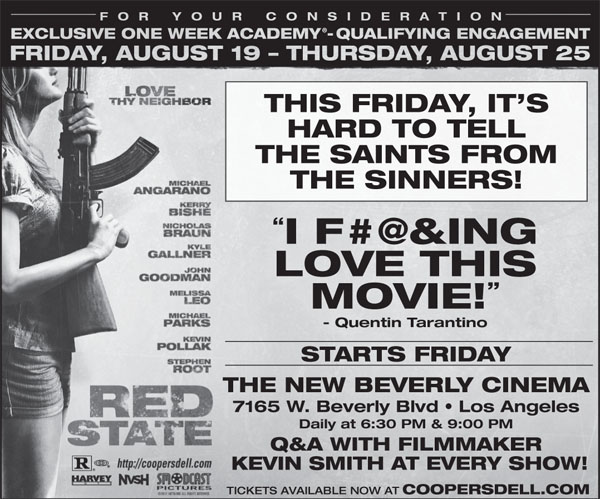 So essentially, those two Texas Red State shows we did this weekend paid for those three ads that didn't put one more ass in our seats at the New Beverly, so far as we could tell from the data we collected. I had to sell 500 tickets at $20 a pop to pay for useless ads. Just doesn't make any sense, does it?
Fuck it – y'know what does makes sense? The soulful sounds of Michael Parks singing gospel on THE RED STATE SESSIONS.